The Engagement – Wedding Magician is fast becoming a bit of a thing in our society. Hot for many years in Europe, especially in England, is the Magical Entertainer performing at the largest party/affair that the couple will ever host or be a part of.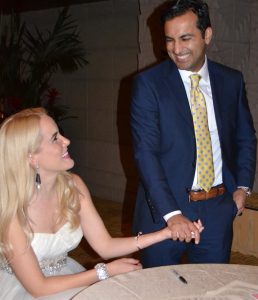 Besides the benefit of having an entertainer that can hold the guest interest while the engaged couple makes the rounds, or the wedding party takes care of the photos license etc., magic has the ability to liven up the party and get the guests engaged and talking about a common experience. Smiling, laughing with a community that has come together for a common cause/event is the strong suit (yes it was a intended pun) of the magical entertainer.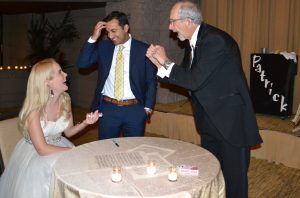 Don't get me wrong, music has charms to soothe the savage beast, but background elevator music just doesn't hold and entertain as the Engagement – Wedding Magician. You don't want the guests to start dancing to soon (Daddy – Daughter, Mother – Son and The Couple Dances) so something has to keep them from looking at the watches during that pause. Enter the Magician with feats of wonder and humor to entertain, engage and liven the group.
The entertainment can be intimate as the close up strolling type or something more for a little larger group or all the way to a stand up performance for everyone. Very often the Engagement – Wedding Magician will have something very special just for the couple, but something that will inspire awe in everyone attending the event and possibly cause a teary eye.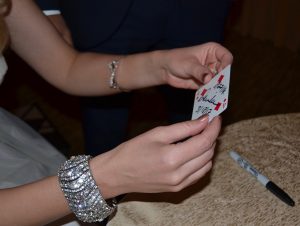 If you are going to put in a great deal of effort to make THIS EVENT stand out, consider the use of the Engagement – Wedding Magicians to help in this endeavor. Stylish and interesting, humorous and weird, profound and sentimental. All of these can be seen with a quality entertainer.
If you need assistance with planning, please feel free to contact me, and allow me to help with options for these big events.
I look forward to helping you with your entertainment needs.
602-625-8790 or email patrick@patrickholcombe.com