Now how will I entertain this group?
Finding Magical Entertainment
How to find the best magical entertainment and entertainer for you
Throwing a party is pretty simple. Notify a group of people that at a certain time and place there will be food, beverage and some kind of fun. Food you can find, drinks are also a no brainer. But what about some kind of unusual fun to keep these people occupied and enjoying themselves. Sure there is always the DJ ( who can be very helpful if you have an agenda to get through with these guests) or the caricaturist who sits in a corner and draws the night away (guests do like the take away ), or the photo booth for the same reason. But if you want to make this event memorable give a magical entertainment professional closeup or standup magician a try.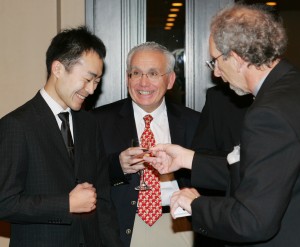 Closeup magic is one of the (if not THE) best values in todays entertainment market. With the advent of so much Magic being shown on television and in the movies, guest are thrilled to have someone professional perform just for them. Those that want to enjoy themselves and be totally entertained love the intriguing and memorable performance. Magic automatically engages, excites and entertains people from all walks of life and all countries. Quality magic performed well stimulates the imagination and encourages the group to interact with each other. And frankly that is one of the most basic things a party can hope to accomplish.
Now finding that entertainer can sometimes be a daunting task. If you are the assistant assigned to find some talent options to present to the committee or boss, you might wonder where to start. Like so many things now a days we Google it! Try 'magician phoenix' or 'close up magic phoenix' to get a start on who is working in this area. Once you see their photo click on them and see if they have reviews. Are they varied, time wise? Do they focus on what you want or are there references to the kiddy party on the weekend they just did? Do they have a list of corporate or adult clients that sing their praises? You might try Googling their name to see what has been written about and by them on performing for your type of event. You want someone who can socially interact well with your valued guests, family and friends to make the best impression possible.
Take a look at the photos. Are they appropriately dressed for the group? Are there many photos or just a couple to show them at work? Are there videos available to get a bit of an idea about their style and will it fit with your group? Ask, they may have them on YouTube.
Now how much time do I need? A good quality closeup entertainer can get to just under 100/hr. Please realize this is bear bones and see how the math works. If he works for groups of 10 ( ten top tables are a norm ) he can spend at most 6 minutes with each group before moving to the next. Not much time, but it still can get them jazzed and interacting. If you want to be sure then about double would be great. More time for amazement and less as a hit and run artist.
Contact the performer that you have found and speak with him about your needs and wants. Sometimes you may not be sure what he/she can do for you and other times you are laser focused on what you want. Share with the entertainer and let the discussion flow. Don't hesitate to make sure they are aware of any budget constraints you might have. There is really no sense in getting involved if you will never be able to afford them. But be aware, if you want to pay peanuts, you are going to get monkeys. Beginners and hobbyists are fine if that is what you want, but I am really referring to high quality professional entertainment here. And their years in the business Making Magic Happen for your type of event is not cheap, but it will definitely be well worth the price of admission. One final word about finances, as a professional, I like to insist on a deposit for two reasons. Sadly, in my industry there are newbies that book a show only to look for a better paying gig down the line. Without a deposit there is little to be done if the entertainer cancels on you. Additionally, for me I don't want to defer potential shows if the party is not for sure and it may cancel at any moment. This secures both sides and is just good business.
Well there you go. Some ideas on how to secure just the right magical entertainment for your special event. I personally have been doing this for over 20 years and would be happy to share my expertise with you at your convenience. Contact me a phoenixmagician.com or 602-625-8790 for a free consultation. Have a Magical Party!
"Absolutely excellent. Patrick entertained even our toughest clients (teenagers) and really blew the minds of our guests. We had folks from California to Chicago and the reviews were: 'Where did you find him?', 'I must have him for our next party!', 'I have never seen my kids so quiet, thank you.'"

Cindy C.

12/10/18

We used Patrick for our Firms 50th Anniversary Celebration.  We had about 200 clients and vendors on hand, and everyone was mystified.  He took the time to get to know the guests, and circulated within the crowd.  Guests raved about his performance.  He definitely helped to make the occasion a phenomenal success.

Kymberli Barron

Patrick was amazing and made our event so special. All guests commented on the performance. He got rave reviews and we could not be more pleased. Our holiday party was a HUGE success and we owe much of that to Patrick! Thank you!