Local Magician Hire That Will Amaze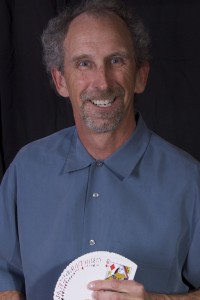 Patrick Holcombe has been a magical entertainer for the past 20+ years, performing close up magic (strolling), tableside (restaurant) and parlor throughout the valley. Patrick's close up magic skills can be seen at the very finest corporate party events, whether they are in someone's home or at any of the upscale resorts located in the Phoenix, Scottsdale area.
A native of the Valley of the Sun, Patrick grew up in the heart of Phoenix and has watched it develop into the 6th largest city in the United States of America. A local boy who attended local schools and knows the flavor of the Southwest better than most. Patrick choose to have his career here since he loves the environment and the people that come to visit from all over the world.
Patrick is a member of the world famous Academy of Magical Arts (a private magicians club), located at the Magic Castle in Hollywood, California. His magical peers have voted him President of the two different local magic societies, I.B.M. Ring #55 and S.A.M. Assembly 248.
His upbeat, engaging and entertaining style of presenting quality magical entertainment has led him to magical competitions, placing in the very first All Arizona Close Up Magic Championships.
"Absolutely excellent. Patrick entertained even our toughest clients (teenagers) and really blew the minds of our guests. We had folks from California to Chicago and the reviews were: 'Where did you find him?', 'I must have him for our next party!', 'I have never seen my kids so quiet, thank you.'"

Cindy C.

12/10/18

We used Patrick for our Firms 50th Anniversary Celebration.  We had about 200 clients and vendors on hand, and everyone was mystified.  He took the time to get to know the guests, and circulated within the crowd.  Guests raved about his performance.  He definitely helped to make the occasion a phenomenal success.

Kymberli Barron

Patrick was amazing and made our event so special. All guests commented on the performance. He got rave reviews and we could not be more pleased. Our holiday party was a HUGE success and we owe much of that to Patrick! Thank you!